Privacy
 "We have . . . gotten behind [your] data as an asset.
We can mine that  data and use what we find."
Dr. Stephen Pratt, Chief Technical Officer for CenterPoint Energy
"While conventional meters only measure a consumer's total electricity usage, smart meters record detailed electricity usage as often as once every 15 seconds, and the resulting usage profiles make it possible to identify which appliances a consumer is using at a particular time,"
Law firm of Proskauer Rose, LLP
"Proprietary business information might be revealed
through energy consumption data of [business] customers."
Law firm of Proskauer Rose, LLP
Smart Meters and Privacy: An Overview
Do you think that the privacy concerns about smart meters are the rantings of conspiracy theorists or the over-concern of Fourth Amendment privacy nuts? Some of us used to think so. But upon further research, we have found that some of the most mainstream of institutions—both governmental and corporate—are documenting the actual use to which the detailed data gathered from smart metering can be put. The utilities themselves have said that the data they gather on you is worth more than the electricity they sell you.
Using smart meters, utilities can track every appliance you use and when you use them, what movies and shows you are watching, what your patterns of sleep and wakefulness are--all in the interest of selling this data to other companies. In March 2012, the CIA Director stated on prime-time television that the smart grid would be used to spy on Americans. No less mainstream an institution than the European Data Protection Supervisor (this is an office of the European Parliament, not an individual) has issued a comprehensive report whose summary statement is that smart meters will allow utilities and others to "track what members of a household do within the privacy of their own homes. . . . The potential for extensive data mining is very significant. Patterns and profiles can be used for many other purposes, including marketing, advertising and price discrimination by third parties." Note that everything said about smart (advanced) meters applies to the radio-off digital opt-out meter offered by DTE and Consumers Energy. The radio-off opt-out meter still collects the same fine-grained usage data as a smart meter. The only thing that has been turned off is the radio-transmitter. None of the data-collection software has been turned off.
"While conventional meters only measure a consumer's total electricity usage, smart meters record detailed electricity usage as often as once every 15 seconds, and the resulting usage profiles make it possible to identify which appliances a consumer is using at a particular time," reports the law firm Proskauer Rose, LLP, which specializes in privacy law. "Additionally, proprietary business information might be revealed through energy consumption data of non-residential customers. As the smart meter technology develops and the usage data grows, the data could become valuable to third parties, creating a new market for energy usage data."
The NSA is building a huge facility in Utah that will be used to gather all sorts of information on Americans, including smart meter usage data, reports Wired Magazine. This can tell the NSA, the utility company, and hackers when you're home, what you are watching on TV, whether you are on the Internet, etc.
The most succinct and telling report on privacy implications is from the European Data Supervisor, and we quote it extensively below, immediately following the graph of electrical usage. Following that are excerpts from Colorado's report on smart metering privacy issues and the report from the Congressional Research Service.
The picture below of what a smart meter can record is found in the report by the Congressional Research Service, Smart Meter Data: Privacy and Cybersecurity. Further discussion can be found in theColorado Public Utilities Commission's  Report on Smart Metering and Privacy. Note the unique signatures for a refrigerator, a tea kettle on the electric stove, a washing machine, etc. This person used their tea kettle 4 times in a 24-hour period. This is just the tip of the iceberg, as the European report details.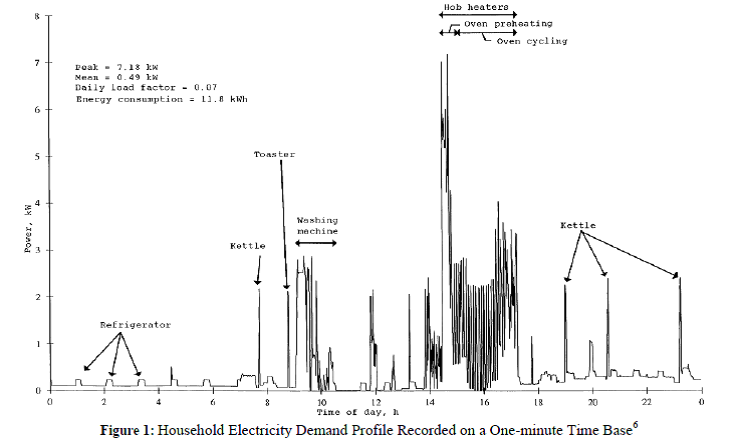 Privacy and Smart Meters—the EDPS Report
Smart meters will "enable massive collection of personal data," says the European Data Protection Supervisor (EDPS). The report goes into great detail on what smart meters can do, and provides the best and most extensive summary of the privacy and surveillance implications of these meters.
"16.  . . . With data at such granularity, those who have access to smart metering data can know when each individual appliance in a household is turned on and off, and can often also identify what specific appliances are used. Smart meters can also provide a detailed breakdown of energy usage over a long period of time, which can show patterns of use.
"17. This raises concerns with regard to security, the rights to privacy and the protection of personal data. Among the most basic concerns are fears that regular smart meter readings, unless the security of data is adequately protected, would indicate to criminals when a house is unoccupied. Data can be used to assess whether anyone is at home and when the members of the household are away at work or on vacation.

"18. The risks to data protection, however, go further than these most immediate concerns. Indeed, unless adequate safeguards are established to ensure that only authorized third parties may access and process data for clearly specified purposes and in compliance with applicable data protection law, deployment of smart metering may lead to tracking the everyday lives of people in their own homes and building detailed profiles of all individuals based on their domestic activities. With the sheer amount of information that is being amassed by these smart meters, ubiquitous availability of data from other sources, and advances in data mining technology, the potential for extensive data mining is very significant. Patterns can be tracked at the level of individual households but also for many households, taken together, aggregated, and sorted by area, demographics, and so on. Profiles can thus be developed, and then applied back to individual households and individual members of those households.

"19.  . . . To illustrate, by analysing detailed electricity usage data it may be possible in the future to infer or predict—also on a basis of deductions about the way in which electronic tools work—when members of a household are away on holidays or at work, when they sleep and awake, whether they watch television or use certain tools or devices, or entertain guests in their free-time, how often they do their laundry, if someone uses a specific medical device or a baby-monitor, whether a kidney problem has suddenly appeared or developed over time, if anyone suffers from insomnia, or indeed whether individuals sleep in the same room.

"20. These patterns can be very useful for analysing our energy use for energy conservation. However, patterns and profiles can be used for many other purposes, including, most importantly, for marketing and advertisement. Indeed, information about energy usage can have high commercial value: companies often already know, from tracking order history online, or tracking shop loyalty cards, credit card or bank card use what consumers buy. By analysing smart metering data, data  collected via RFID tags, and utilizing other developing technologies companies are increasingly also able to tell where, when and how consumers use the products. This additional information can then be used for targeted and personalized advertisement. In addition, profiling may also increase the information imbalance between consumers, on the one hand, and energy suppliers or other third parties who wish to market goods and services to the consumers: the more information a consumer discloses about himself, the easier it will be for any party who wishes to sell him a product or service to turn such informational advantage to its own benefit, for example, to engage in price discrimination.

21. Further, law enforcement agencies, tax authorities, insurance companies, landlords, employers, and other third parties may also be interested in personal energy usage information."
Click here for a news article from the United Kingdom's Guardian/Observer on the European report.


Colorado Smart Meter Privacy Report
The State of Colorado commissioned a report on smart grid privacy. Excerpts from that report:
"Many intricate details of household life can be gleaned from information obtained via advanced metering infrastructure."
"The . . . trend toward finer and finer interval data means that more and more information will be discernible about more and more people."
"The raw information about when an appliance event occurred in a given home . . . could be used to construct a detailed picture of residential life. Tracking appliance events means smart grid information could tell you the answer to questions like

How often does a given customer eat microwave dinners as opposed to cooking three-pot meals?
How many hours of TV does a resident watch? What kind of TV is it?
When does a resident normally shower (and so cue an electricity draw from the water heater)?"

"What's more, the raw fact of an individual's monthly level of electricity usage may be becoming a more sensitive issue among some communities as electricity usage is tied ever more to social moors concerning environmental responsibility."
For additional excerpts, click here. For the full report, click here.
The Congressional Research Service's Smart Meter Data: Privacy and Security Report
The Congressional Research Service's Smart Meter Data: Privacy and Security report analyzes privacy issues under the Fourth Amendment and various federal laws. In part, it states:
"The Stored Communications Act (SCA), the Computer Fraud and Abuse Act (CFAA), and the Electronic Communications Privacy Act (ECPA) . . . would appear to permit law enforcement to access smart meter data for investigative purposes under procedures provided in the SCA, ECPA, and the Foreign Intelligence Surveillance Act (FISA), subject to certain conditions."
Newsletter, Facebook—Stay Up to Date
Stay up to date by subscribing to our newsletter (it comes out every 1 to 4 weeks). We constantly update our website, so check back often. You can find updates and time-sensitive actions to take under our "Alerts and Breaking News" box. We also use Facebook to send out quick news updates. (While we understand the privacy concerns with Facebook, at this point in time it is a useful tool for us, and is a great way to spread the word about smart meters. If you only wish to use Facebook for access to our updates, you can get an account without revealing personal information—it's all in what you choose to share, and you can give them any name or birthdate you like.)
Our newsletter comes out every 1 to 4 weeks. It will keep you informed and tell you what actions you can take to fight smart meters. Note that most email programs will filter out our newsletter unless you adjust your email settings. Even though you may receive individual emails from us, when we send the newsletter out to a large group, the emails may be placed in a folder other than your inbox. This happened to us! We weren't even getting our own newsletter.. Please make sure you look for emails from smartmetereducationnetwork@ gmail. com in your Promotions, Spam, Junk, or other folders. Please contact your email provider to learn how to adjust your settings, or search on the internet.
Terms to Know

Advanced meter: smart meter (term used by DTE to hide the fact it is a smart meter).

AMI meter and AMI program: another name for the smart meter and the smart meter program. AMI stands for advanced metering infrastructure.

Blood-brain barrier: EMFs can cause the blood-brain barrier to be breached, allowing toxins to enter the brain. Toxin entry is thought to be partially responsible for Alzheimer's, dementia, and Parkinson's.

Dirty electricity: spiky, pulsed electromagnetic field generated by smart meters that rides through building wiring and permeates the building's rooms. Responsible for many of the health problems seen with smart and digital meters.

Electromagnetic fields (EMFs): consist of an electrical field and a magnetic field. Fields are created by the flow of electrical current through the wire, sunlight, etc.  

Electromagnetic frequency: examples are 60 Hz electrical current of your home, RF of a cell phone. Often used interchangeably with electromagnetic field.

Electromagnetic hypersensitivity (EHS): sensitivity to electromagnetic fields. Symptoms are complex and involve all bodily systems

Hydrogen bonds: Electrostatic bonds that help hold the DNA double helix together. Breakage of hydrogen bonds may cause changes in DNA that can lead to cancer. RF and other EMFs may disrupt the Hydrogen bonds.

Meter upgrade: the installation of an advanced (smart) meter on your home by DTE.

Microwave radiation: the type of radiation emitted by smart meters. Known to cause biological harm.

Non-transmitting meter: another name for the DTE and Consumers opt-out meters.

Opt-out meter: this is a smart meter. The only thing that is different is the radio-transmitter is turned off. It still generates dirty electricity, it still retains the two antennas, and it is only incrementally less harmful to your health. It can still record detailed information about your electrical usage.

Radio-disabled meter: another name for the DTE opt-out meter.

Radio-off meter: another name for the DTE opt-out meter.

Radiofrequency (RF): high-frequency electromagnetic waves in the range of 10 MHz to 300 Ghz. All wireless devices, including smart meters, cell phones, and Wi-Fi emit RF.

Switched mode power supply: contained in all smart meters, it creates dirty electricity.

van der Waals bonds: an extremely weak electromagnetic force that helps hold the DNA double helix together. Breakage of the van der Waals bond may cause changes in DNA that can lead to cancer. RF and other EMFs can disrupt the van der Waals bonds.